Cloud: Transitioning To New Age Banking
Cloud storage has been the rage for the past couple of years, and it is only bound to grow. The need for faster solutions and agility has the Banks moving towards cloud technology. Businesses across verticals are switching from legacy core banking on-premise to Cloud, thereby transitioning to a robust business model.
Along with Banks, Financial institutions are also learning from leaders in other industries and applying acquired best practices for successful cloud computing technology adoption to their business models. The financial services industry is at an inflection point in its use of technology, and banks have already started to seize this moment and embark on their transformation journeys.
With the Cloud's increased agility, products can be introduced to market much faster and cost-efficiently, which has led to traditional banks and financial institutions adopting and migrating to the Cloud with urgency. In addition to resilience, key drivers include the desire to be more efficient from a developer productivity standpoint and raising the bar on security has been equally important.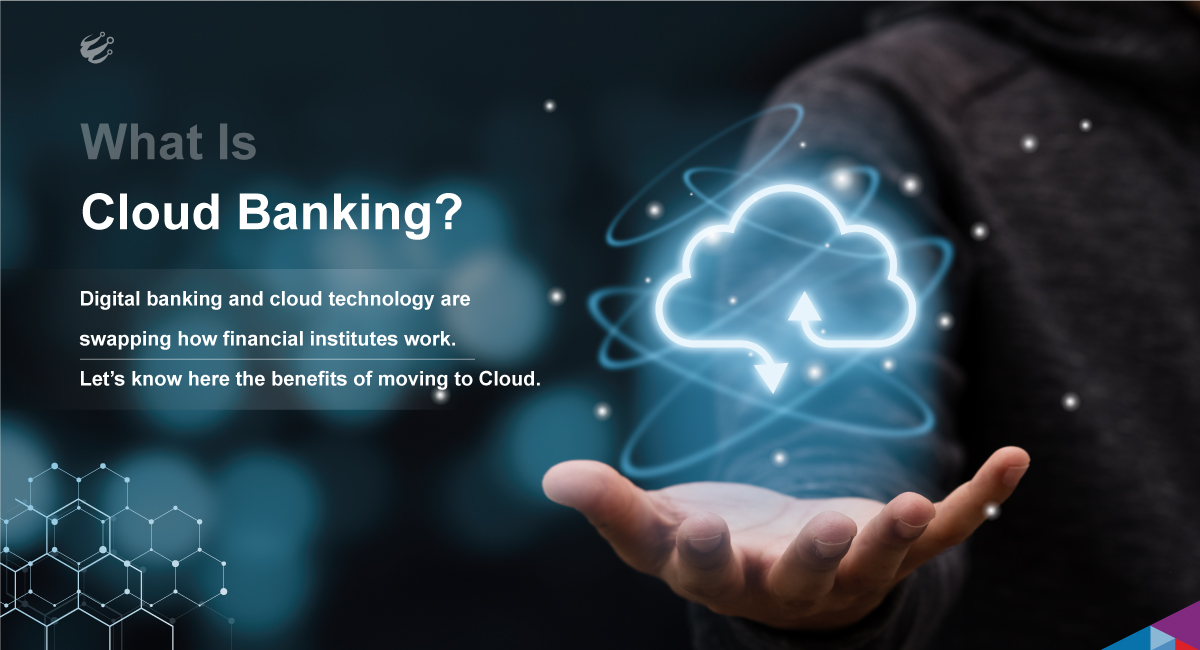 Bankers have realised the potential of cloud technology and look at Cloud as a driving force to transform the banking industry digitally. Cloud banking refers to using the Cloud to store and access data. The Cloud has proven to be a superior technology in handling data, especially providing agility, scalability, and security to banks. It enables quicker deployment of financial services, lesser expenses in rolling out new applications, and higher flexibility in adapting to market needs; these are some of the key factors that have driven banks to leverage Cloud over their traditional IT infrastructure.
Key Challenges Faced by Banks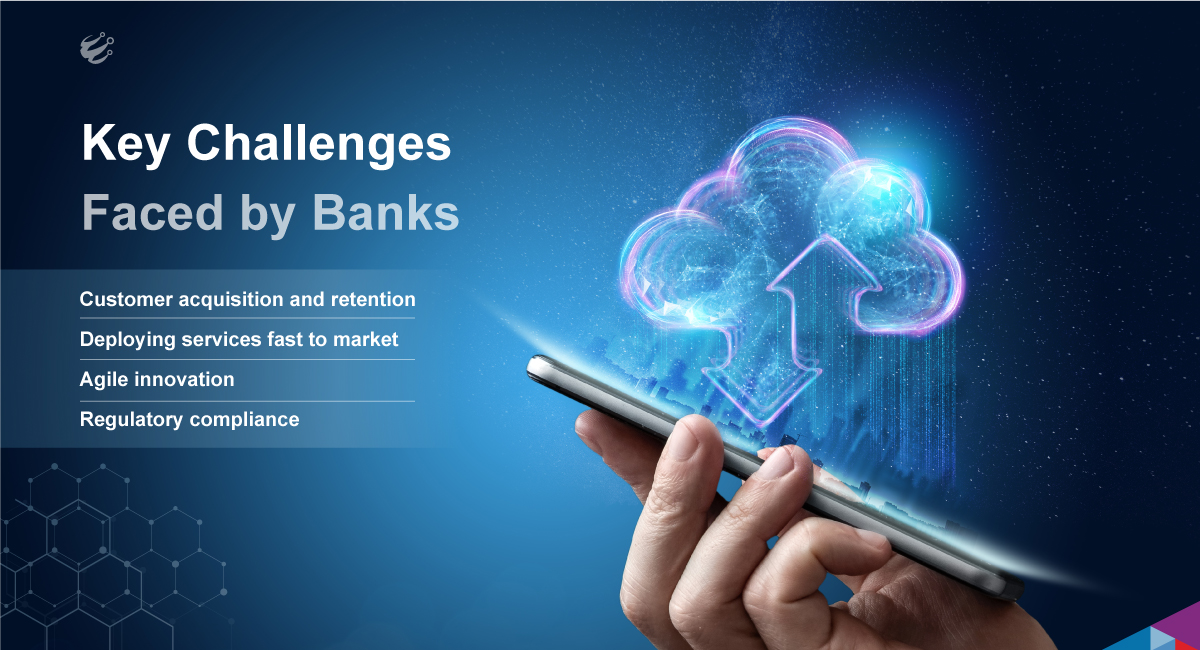 Customer acquisition and retention : Gaining new customers and keeping your current customers satisfied, ensuring that your customers seek and avail all the services being offered by the Bank, and providing them with stellar service to keep them from switching to a competitor.
Deploying services fast to market : New services and offers keep coming out regularly; keeping up with these offers and ensuring all your collaterals are updated in time requires a solution that allows you to quickly and easily deploy to market.
Agile innovation : The need to meet your consumers where they are and to consistently reinvent your offerings to appeal to the current market situation forces banks to be on their feet and reinvent themselves constantly. This requires an agile model that can quickly be rebuilt.
Regulatory compliance : Keeping updated with all regulatory mandates and ensuring that everyone follows the latest policies.
Key Benefits of moving To Cloud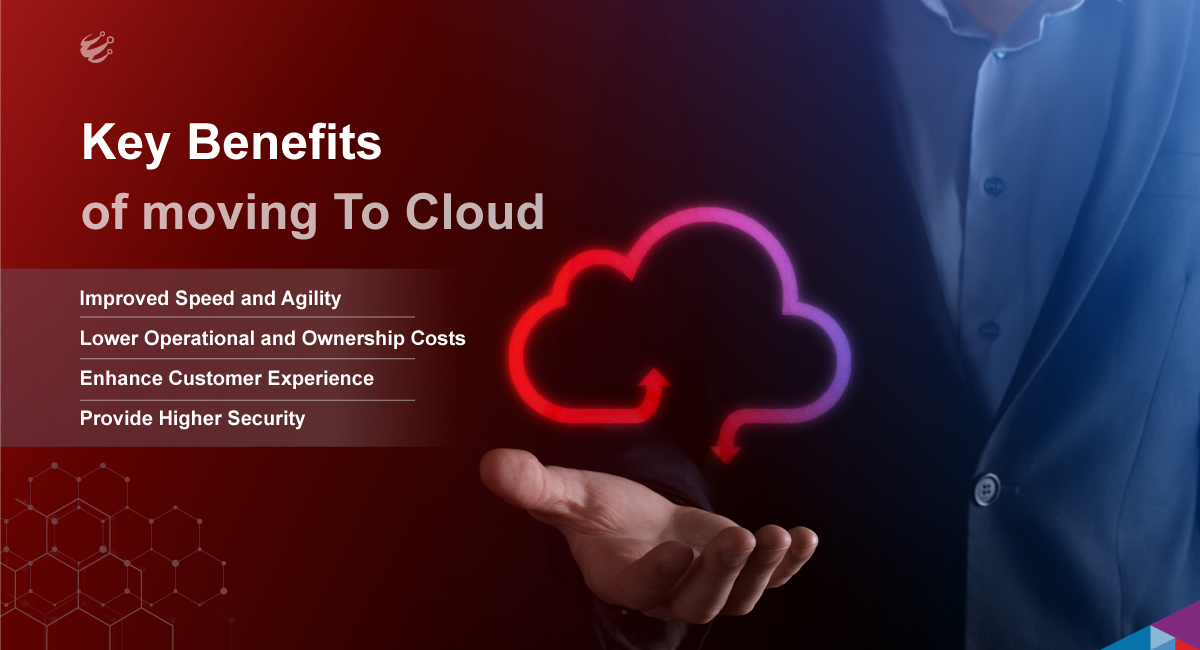 Improved Speed and Agility : Launching a new landing page on a legacy system would be expensive and would take a bank far longer than it does with cloud technology. Cloud technology has made banks far more agile and quicker than they used to be! This enables banks to deploy new services to customers easily and quickly. Overall, this model assists banks in shortening their product deployment cycle and simplifies the process of product testing. Cloud banks can innovate and quickly launch beta versions of their products, replacing them with newer versions; they can also manage failures by quickly scaling back or reversing moves. Cloud allows banks to evaluate their products in a real-time scenario.
Lower Operational and Ownership Costs : With cloud technology, banks no longer need to invest in building a new infrastructure for each service they need to provide. Instead, they can leverage pre-existing apps with the help of APIs to roll out financial services quicker and with lesser operational and overhead costs. This allows banks to scale horizontally and vertically with ease; it also gives them the flexibility to choose services they fit as essential and unsubscribe to services that are no longer of value. Banks get the time to focus on their core competencies.
Enhance Customer Experience : Banks can now use third-party applications and services to enhance customer experience. From providing solutions straight to WhatsApp to providing customers with instant solutions on their phones, banking as a service will become highly customised with this digital revolution. Cloud enables banks to build an enhanced marketplace for customers, one where they can leverage modern technology services and data to build a more wholesome experience for simplifying and enhancing each financial transaction.
Provide Higher Security : Initially, people would think of clouds and immediately worry about security threats and hacks. One of the most significant weaknesses of cloud technology has now upturned to one of its greatest strengths. Public cloud servers belong to some of the biggest brands in the world. Amazon alone invests over a billion dollars in security for cloud servers. This is way more than any bank could individually support, making Cloud a way more secure and compliant alternative to handling data.
Cloud offers an opportunity as no other system does; with cloud operators providing a range of cloud services, the banking industry will only accelerate the switch in their infrastructure, and the future of banking will be growing in an automated route.
How can Profinch help Banks in enabling their architecture on Cloud?
Profinch, a trusted partner for Oracle, has enabled many banks and Financial institutions to move their current architecture to the Cloud, thereby solving their issues/pain points.
Do reach out to us to know more about the successful Cloud implementations done for banks worldwide.
– This blog has been written by Anand Siva Guru, Associate Vice President – Presales, Profinch