The Future of Branches in Banking
Traditional banks with tellers, long wait times, and customers waiting in line have been on the decline across the globe for a long time. As per The Economic Times, several US banks have already closed over 2900 branches in 2021. The closure rates went up by 38% since 2021. Many factors have led to this trend, such as the COVID-19 pandemic, fintech, new payments service companies, superapps tech giants, and other non-traditional players. Customers have discovered that they can meet almost all financial requirements via online or mobile banking.
So, what is the future of branches in banking? Continue reading to find out more.
The importance of bank branches in a Digital-First world
Based on a survey conducted by Deloitte, branches are still the most popular option for opening accounts. The study revealed that customers prefer bank branches over digital channels when opening new accounts, for simple (like a savings account or debit cards) and more complicated items (like loans).
This was the case in developing nations, like Mexico, India, and Indonesia, and in developed nations, like Spain, France, Germany, Japan, the United States, Canada, and Switzerland. In Norway, for digital channels, most customers said they would prefer online channels to branches when they apply for essential banking products like savings accounts, checking accounts, debit cards, and credit cards.
The preference to visit branches when the process of opening new accounts is common across generations, starting from baby boomers to millennials.
64% of baby boomers
54% of Gen X.
47% of millennials
56% of Gen Z.
Those surveyed by Deloitte said they prefer visiting a physical branch for opening a checking account.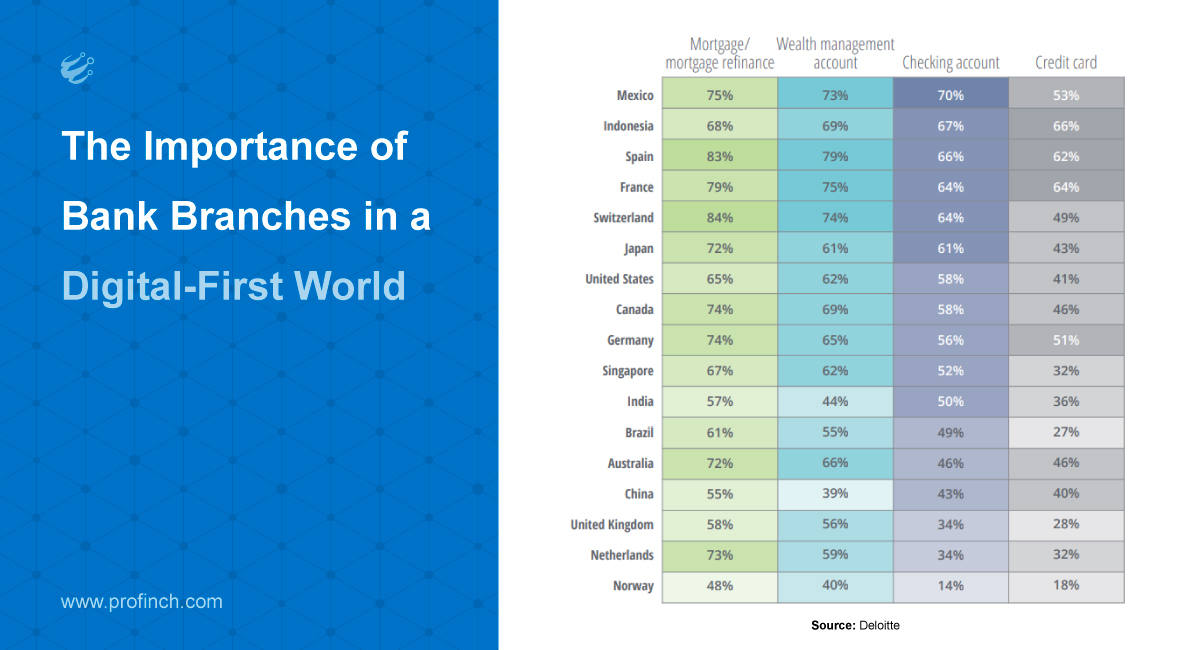 Customer satisfaction plays a crucial role in the future of bank branches
Customer satisfaction is a significant factor when choosing the best banking method, whether mobile, physical, or online.
An excellent or unpleasant encounter in the midst of crucial moments is likely to leave lasting impressions. Because of the usual or urgent nature of interaction touch points, such as account opening and issue resolution, banking customers are most likely to experience positively or negatively charged impressions, as these tasks require human interaction in the case of a physical bank branch.
Customers who dispute a transaction or file a complaint via bank call centres are also likely to imprint a mental image of their bank, pleasant or otherwise, based on the interaction quality with the branch associate.
As a result, bank branches, being the second most commonly used method for resolving issues or complaints, also pose a greater challenge to customer satisfaction.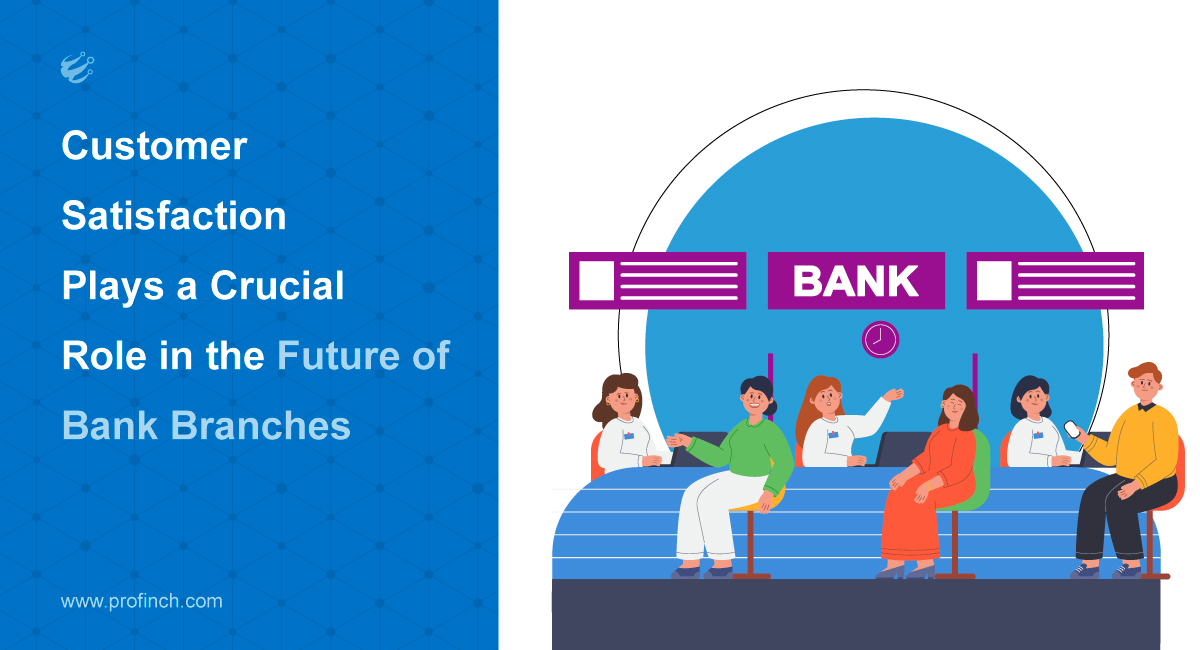 Furthermore, customers must spend time and energy when they are raising a complaint, sometimes having to wait a long time before an agent can address their query, and sometimes the agent being exhausted from dealing with lots of complaints may sound rude in the moment. However, the negative impressions created by these interactions may remain in the customers' minds for quite a while. 
On the other hand, customers could be delighted if a concern from the contact centre was dealt with effectively or if they had an enjoyable appointment with the relationship manager within the branch. An effective in-person issue resolution would be far more satisfying than paying their bills online or through the mobile app.
The second reason people still prefer bank branches in developing and developed nations is that a bank branch symbolises trust. Since money matters are often personal and complex, trust has always played an essential part in choosing a primary banking partner. People prefer going to bank branches to deposit their money instead of making online or mobile deposits. Banks build on this trust and can enhance their brand image while maintaining strong customer connections.
Third, branches offer easy access to banking services. The accessibility of ATMs and branches is a significant factor in picking the primary bank. In India, people still prefer visiting branches of their bank to get an up-to-date bank statement, as well as deposits and withdrawals, at least once a month!
So, what is the future of bank branches?
Although closing certain branches of banks is a business decision that could be rational for various reasons, it seems like banks aren't ready to abandon bank branches just yet. While today's customers may not prefer traditional branches, they could still play a significant role in the customer journey, provided they can use the potential of digital technologies and workflows to improve the banking experience.
Despite the declining branch density and the demand for traditional banks resulting from long lines and short operating hours, the "traditionalists" continue to visit the branch because they prefer a human touch. Between 30 and 60% of consumers prefer to do at least a portion of their banking in a branch.
Banking at the branch in the modern age requires using the power of front-to-back digital transformation to enhance and personalise the customer experience in-person. McKinsey estimates that in the traditional model, 70% of the floor is used by tellers and 30% for self-service. Compact, streamlined designs mean lower costs for infrastructure. The smart branch layouts have brought about a 60%–70% increase in the efficiency of branches due to reduced costs and higher sales.
Banks concentrating on the pre-pandemic ways of banking will not be able to successfully justify the high expenses associated with their bank branches. Smaller layouts also provide the possibility of providing greater access to customers from several locations. An innovative approach can mean the future of in-person banking is retained and elevated. However, just a layout change might not be enough to safeguard the future of physical branches. Banks have to redo the customer journey and elevate the in-person banking experience.
How to improve the in-person banking experience?
There are three types of banking customers:
| Banking Customer Type | Description |
| --- | --- |
| Traditionalists | Customers who rely on bank branches the most out of any other channel. |
| Hybrid Customers | Customers who use both bank branches and online modes for their banking needs. |
| Digital Banking Customers | Banking customers who prefer digital channels over other channels. |
Considering all the above-mentioned banking customers, there are certain measures a bank can take in order to provide optimum service to their customers while maintaining the right balance between physical and online banking modes. 
A customer-centered approach with a blend of AI is the way to success!
Instead of waiting on customers to describe their needs to a banker or teller banker, AI-enabled branches take customers to the most effective locations for interaction (ATMs for deposits and withdrawals or personal bankers for lending, etc.).
Integrated Customer Relationship Management (CRM) platforms can now integrate with back-office and digital banking systems to give immediate customer insight and tailor interactions with customers.
Banks can also use humanoids or robots to increase customer satisfaction by informing customers about products and making self-service accessible. AI embedded into banks' physical and digital apps is becoming more commonplace.
Branch automation through seamless onboarding, account servicing, queue management, kiosk banking, customer 360, and branch analytics is changing the customer experience and the insights branches have on customers. Profinch's Atumverse is helping banks transform their operations and customer experience.
There are many obstacles that banks must overcome to achieve the appropriate equilibrium between digital and more personal experiences at branches. Traditional customers are likely to remain a significant portion of a bank's target market, and focus should be on elevating this cohort's experience at branches while using automation to streamline processes and digitally enable their branches through cloud-ready banking platforms.